Pasta with Beans
Ingredients: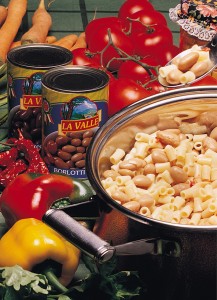 14oz can of La Valle white beans
2 tablespoons La Valle extra virgin olive oil
2 cloves garlic
1 tablespoon chopped parsley
14 oz La Valle Chopped tomatoes
Red pepper (optional)
Preparation:
Cook over low heat in a ceramic pot the white kidney beans, oil, garlic, tomatoes and parsley until they are almost soft.
In a separate pot boil water and cook pasta according to directions then drain. Then mix in with beans and continue cooking over medium heat until it becomes almost more dry and creamy.  Add red pepper flakes for a little kick if desired.
Let it stand for at least ten minutes before serving.
Buon Appetito…