Ragu with Artichokes
Ingredients: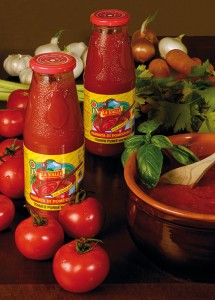 2 lbs of lean pork , veal and beef
½ onion
2 cloves garlic
1 tablespoon La Valle extra virgin olive oil
½ cup of dry wine
La Valle Italian Peeled Tomatoes
Chopped parsley
7 artichokes (slice to preferred size)
Preparation:
In a ceramic pot add oil and cook the garlic until golden then add the chopped veal and beef .
Once meat has browned, add the wine. Cook until wine has almost completely evaporated out then add the peeled tomatoes, parsley and salt and bring to a simmer and then lower to medium heat.
About 30 minutes into cooking, add the sliced artichokes and let it cook slowly for another 20 minutes.
Buon Appetito…