Trout alla Pizzaiola with La Valle Cherry Tomatoes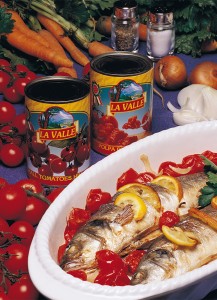 Ingredients:
2 whole trout (cleaned and washed)
2 cloves of garlic
1 can of La Valle Cherry Tomatoes
1 cup dry white wine
1 whole lemon for garnish
1 tablespoon La Valle extra virgin olive oil
1 tablespoon chopped parsley
Oregano
Salt
Pepper
Preparation:
In a pan add oil and cook garlic until golden brown.  Add tomatoes with chopped parsley, oregano and salt and bring to a simmer.
After ten minutes lay trout down in sauce and slowly pour the wine in and cook for another ten minutes or when wine evaporates out.
Garnish with slices of lemon and serve.
Buon Appetito…