Tagliatelle in a Pink Sauce
Ingredients: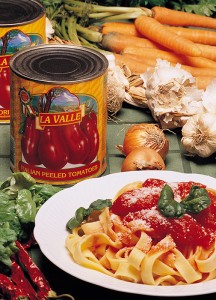 1 package of Tagliatelle
1 14oz La Valle Italian peeled tomatoes
1 carrot
1 celery
2 tablespoons La Valle Extra Virgin Olive Oil
½ pint of Milk (2% or skimmed)
3 tablespoons grated Parmesan
2 tablespoons flour
salt
coarse salt
Preparation:
Boil 4 liters of water with 2 tablespoons of salt and then add pasta and cook until al dente.

Meanwhile finely chop the onion, carrot and celery. In saucepan add oil and, sauté the vegetables for a few minutes then add the chopped tomatoes. Add salt and let cook for 20 minutes, stirring occasionally.

In another saucepan melt the butter and add the flour, milk and a pinch of salt. Stirring over low heat to thicken, then stir it into other saucepan with the tomato and vegetable sauce.

Drain the macaroni once cooked al dente and pour into a bowl and mix with the sauce.  Add Parmesan cheese, mix well and serve!
Buon Appetito…